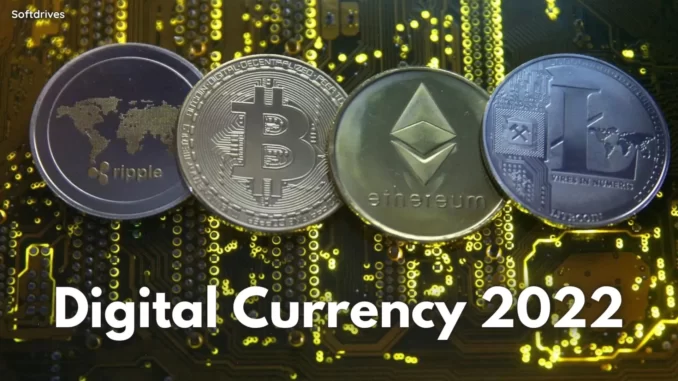 Want to know what is the situation of Digital currency 2022? how it will be in the future? no need to worry!! today we will do an Analysis of Digital currency in terms of 2022, like what changes took place in 2022, the best Digital currency in 2022, etc. Digital currency becomes an important part of the Finance world. we can say the world's economy is running off Digital currency. hence it is a growing field where you can invest or trade. beginner's understanding the process of how this currency works. hence you have to be aware of the market. so let us start the ride!
Are you in a hurry? you can read the table of content which is placed below the image. you can find there whatever you want.
What is Digital Currency?
In the technology world, finance is also moving towards technology. the currency which is designed and stored digitally like on online platforms and which is transacted, traded, and processed online is called digital currency. it was made by some security experts with the help of some algorithms and encryption. it is totally safe money that you can use while paying. in Covid pandemic, this form of currency started growing because of physical distancing and other restrictions. it is hands-free, fast, and safe. hence people are moving towards digital currency. There are 3 types of Digital currency. you may have heard the name Cryptocurrency or crypto. it is a digital currency. Stablecoins and Central Bank Digital Currencies are the other two types of this currency. now we will Move to the hot topic which is Digital Currency 2022.
Digital Currency 2022
Cryptocurrency is the biggest digital currency in the world. hence we will discuss crypto. so we can predict other digital currencies also with the help of crypto.
As of now, in 2022, Ethereum is the most emerging crypto coin in the market. with Ethereum, bitcoin is also a good option for investors to invest. but experts are saying that bitcoin is falling in the market in 2022. Defi services are crossed over $200 billion, hence demand is increasing in 2022. Ethereum, Solana, Polkadot, and Cardano are ahead in the race for the best crypto. following are some big events that happened in the cryptocurrency world in 2022.
CryptoWorldCon (CWC) – April 1-2, 2022.
Bitcoin 2022 – April 6-9, 2022.
Cryptocurrency World Expo 2022 – March 9-10, 2022.
Crypto State by CoinDesk – February 24, 2022.
Blockchain Expo World Series 2022.
So these were some short and important details about Digital Currency 2022.
FAQs
Will digital currency replace paper money?

No, Biden's executive order won't replace paper money in the future.
Which digital currency will grow the most in 2022?

Battle Infinity (IBAT) has the most chance of growing in 2022.
Conclusion
Hope you have understood Digital Currency 2022, as we went through some important events and major points that express the condition of the market. although you have to be aware while investing, buying, or trading digital currency. hope we have cleared your doubts. if you have any other, you can write them in the comment section.